Tuz in Tas
At linux.conf.au. Meant to blog yesterday before it started. Didn't. In a talk. Trying to blog a sentence everytime Pia takes a breath. May not have been clever plan. Hobart's pretty nice so far. Networking worked in my room first go. The view out my window from Saturday: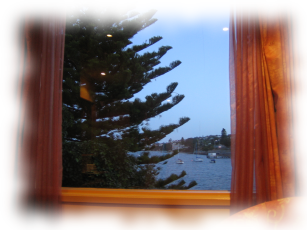 And the last two overs of the cricket yesterday were good.
My plans for the week, in theory, are in the wiki. I'm hoping to run/go to two BOFs: a startup one, and an accounting software one. Haven't found the BOF board yet to schedule them yet. Pictures of the conference mascot/plushy are available at other blogs. He's cute. Peace out.